We have found this pet's record
We found a pet record for this tag. Below is all of the information that the Pet Owner has currently made available online to those who look up the Tag ID. If you have spotted this pet or currently have this pet in your possession, please do one of the following:
Contact the pet owner directly if their contact information is provided below.
File a Found Pet Report by clicking the blue button below.
You may contact our 24/7 Hotline any time at 1-877-239-6072
CHIQUITA is lost!
Lost Date
December 23rd, 1:29pm
Wearing collar?
Yes
Wearing DocuPet tag?
Yes
Last seen at
3162 West Vía Campana De Oro, Tucson, AZ 85745, USA
Chiquita is an elderly teacup chihuahua with bad arthritis who weighs about 5lbs on a good day. She got out and we do not know how long she has been gone. Please let us know if you find her, 520-990-4119. Melissa Young.
Map
CHIQUITA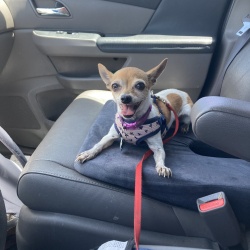 | | |
| --- | --- |
| Tag Code | N26J2HWH |
| Breed | CHIHUAHUA SH |
| Species | Dog |
Basic Information
| | |
| --- | --- |
| Color | TAN / WHITE |
| Gender | Female |
| Spayed/Neutered | Yes |
| Pet Date of Birth | 02/01/2012 |
Owner Information
Owner Name
MELISSA YOUNG
Phone Number
(520) 425-0431
Cell Phone Number
(520) 990-4119
Home Address
3162 W VIA CAMPANA DE ORO
TUCSON AZ 85745