We have found this pet's record
We found a pet record for this tag. Below is all of the information that the Pet Owner has currently made available online to those who look up the Tag ID. If you have spotted this pet or currently have this pet in your possession, please do one of the following:
Contact the pet owner directly if their contact information is provided below.
File a Found Pet Report by clicking the blue button below.
You may contact our 24/7 Hotline any time at 1-877-239-6072
carmela is lost!
Lost Date
December 10th, 9:00am
Wearing collar?
Yes
Wearing DocuPet tag?
No
Last seen at
4690 E 22nd St, Tucson, AZ 85711, USA
I was in shower and I heard my gate slam, I went to check and she was gone. There is no way she could have opened the gate . The latch is on the opposite side. I think someone stole her. Either way she is loved and missed dearly!
Map
carmela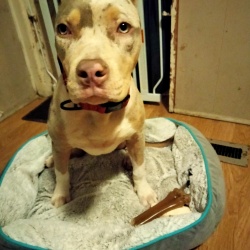 | | |
| --- | --- |
| Tag Code | N26GST85, N26GST85 |
| Breed | Staffordshire Terrier |
| Species | Dog |
Basic Information
| | |
| --- | --- |
| Color | red |
| Gender | Female |
| Spayed/Neutered | Yes |
| Microchip Number | 987000008713704 |
| Pet Date of Birth | 01/18/2022 |
Owner Information
Owner Name
Sarah Fergus
Phone Number
(520) 274-6993
Cell Phone Number
(520) 273-3239
Home Address
1501 N Venice Ave # 45
Tucson AZ 85712